Is This One For You? Amilia Class Registration Software Review
Our third and final in-depth class registration software review platform is Amilia (not to be confused with the WordPress plugin Amelia, which is more for appointment booking and not related to the Amilia software we are reviewing here).
Amilia is a Canadian registration software company. We found this software to be easy to use, while also missing some key features that may be coming in the pipeline. Amilia's support team is very responsive, and spent time on the phone with us answering questions. Amilia does offer many valuable and unique features – we really enjoyed the process of creating courses, displaying them on our testing site and experimenting with registration.
For even more features, Amilia offers "Apps" some of which are free. These include Merchandise, Advanced Reporting, Facebook Ads Pixel, Google Analytics, Private Lessons, Seasons (define your seasons to better classify your memberships) and more. Some are paid, ranging from $5 to $29 per month.
Getting Started: Amilia Class Registration Process Overview
Getting started with Amilia registration software is a breeze. There is step by step, non-intrusive walk through of each section the first time you use it.
The basic structure of Amilia is Activities within Programs. First, you create a program, and underneath that you can enter in classes.
When you create a program, you can set start and end date, important information that will display on the program page, and also a custom message for confirmation of registration. You can set a featured image for the program, and Amilia has a cancellation policy option in beta as we publish this.
Adding Classes/Activities
Adding classes can only be done after creating Programs. This may be a bit confusing if your classes are not configured as part of a program, however there are ways to group them into programs, for example by location.
Each activity gets a category, and can also have a sub-category. This means you can categorize by school or grade level, in addition to the age restrictions you can set for each course.
Amilia describes the configuration like this:
To ensure you have labeled the levels clearly, simply read it like a sentence: I want to enroll my child in Recreational Gym (Category) for beginners (Subcategory) on Saturday at 9am (Name of the activity). Another example could be: I wish to register to Dance (Category) for girls (Subcategory) every Monday at 6pm (Name of the activity). Keep in mind these are suggestions. You ultimately decide how to establish your structure.

-Amilia Documentation
New activities auto-populate with the category and sub-category used in the previous activity. However, there is no central listing of categories. Previously created categories did not show up in the dropdown, so we had to make them "new" every time. We would love to have the ability to manage categories directly, and create them in advance to be applied to activities and ensure consistency in naming.
Amilia requires a Ledger Code for all activities. Ledger codes group items together in your financial reports. If you don't utilize ledger codes in your accounting system or want this reporting feature, you can use "Default ledger code."
There is an easy editor for adding a description, prerequisites and a note or reminder. A nice feature is the ability to restrict registration by age. This will prevent someone from signing up their child for a class for which they are too young or too old. You can also set a featured image for the activity, open a waiting list, make the activity part of a membership or a subscription and add merchandise (more on that below). The waiting list featured includes an automatic email to be sent to clients when a space opens up.
Amilia includes a "Required gender" option. Clients do not need to specify their gender unless an organization requires it. You can control this on the registration form options. We would prefer this to be or also include a preferred pronoun section, as well as a more diverse listing of gender options (currently students can only select Not Specified, Male, Female or "Prefer not to say.")
Skills
Amilia also has option "Skills" which can be applied to the registration process to categorize your participants and follow their progress.
Once your skills have been created, you can use them to restrict registrations for a specific activity. Participants must have the necessary skill(s) assigned to their account to register.
Skills can also be used to bypass the age requirements for a given activity, meaning that a participant must have either the required age to register or the chosen skill in their file in order to register.
Adding Class Locations
The Amilia sidebar/dashboard includes a prominent link for "Facilities," where you can enter details about your locations/facilities. The locations on the front end of the site do not include a map or link to a map. This is a feature we requested and Amilia support seemed to think this could be something they will be addding.
Amilia recently published instructions on how to set up a virtual class using their software. We created a "facility" called Online. The facility does not require an address, so this worked fine.
If you own your facility, Amilia has a cool feature that allows you to create contracts so you can rent out your facilities using Amilia's registration and payment platform.
Adding Class Instructors
It's easy to find how to add a new staff member or instructor, with a "Staff" link in the sidebar navigation.
This section includes a place for job postings in addition to the current staff, which could be useful. Current staff is classified as "Management." The staff section also has a scheduling feature.
Scheduling Classes and Camps
Scheduling is part of the activity set up. We got a little confused when we forgot the timeframe we had set for our main Program, and tried to make an activity within that program have and end date later than the Program end date. The activity schedule needs to fit within the Program timeframe.
A nice feature is the scheduling will alert you if there is a conflict with an instructor schedule. Amilia recommends configuring availability of stff and locations before defining your activity schedules so the system can help identify conflicts.
You can select the recurrence (daily, weekly, monthly) and then configure the number of times it repeats, and on which day(s) it occurs. For weekly occurrences, personalize the schedule for each day of the week.
Merchandise
A nice "App" feature is the ability to sell merchandise on its own and/or with a class. This is a great option where you offer t-shirts or other branded merchandise, making it easy to build into the sales process!
Pricing
Amilia offers session pricing, pro-rated pricing, and drop-ins. Credit card, Check and offline payments are accepted.
You can also offer installment payments on larger programs/sessions.
Calendar
We really love the look of the Amilia calendar. When using the calendar view, there is a filter by category and sub-category. We would love a filter that also includes location and age. This is something we really miss and that parents need to help sort through lots of programs. We were referred to the Grapevine, Texas Parks and Recs website to see how additional functionality can be added, and this was more what we were looking for as a filter. Amilia assigns an Integration Specialist when you create and account, and they help you customize displays and answer questions.
The way Amilia is set up, the calendar only shows activities that offer a drop in class. Sessions to not appear on the calendar. This would not work for camps, which would want to show the duration of the program. Since camps usually don't include drop-ins, they will not show on the calendar view.
Promo Codes, Registration Form & Waiting List
Amilia offers many discount types, including coupons, multi-person discounts and early bird rates. Setting up discounts is easy with a prominent "Discounts" item in the Amilia sidebar navigation.
Amilia allows you to create as many registration forms as you like. The registration forms can be customized. You can opt to include adult registrations or just children.
Create your own questions by clicking on Extra Questions. This section allows you to create, modify and/or remove existing extra questions. You can also include a waiver.
Student Management
Student Management is accessed through "Clients" in the sidebar. You can view the parent account and see associated students/children, and then drill down for more information about their activity.
You can also view students within the activity and take attendance. You can also export information for each program, including the attendance list and waiting list.
Registration Software Reporting
Amilia offers easy access to critical financial reports and important information about your programs and participants. Reports include Accounting, Sales and Statistics. To address organizations that use accrual accounting, Amilia developed a revenue recognition report which separates data into revenue recognized in past periods, the current period and deferred until a later period. Revenue from the sale of an activity is recognized after each occurrence of the activity has passed.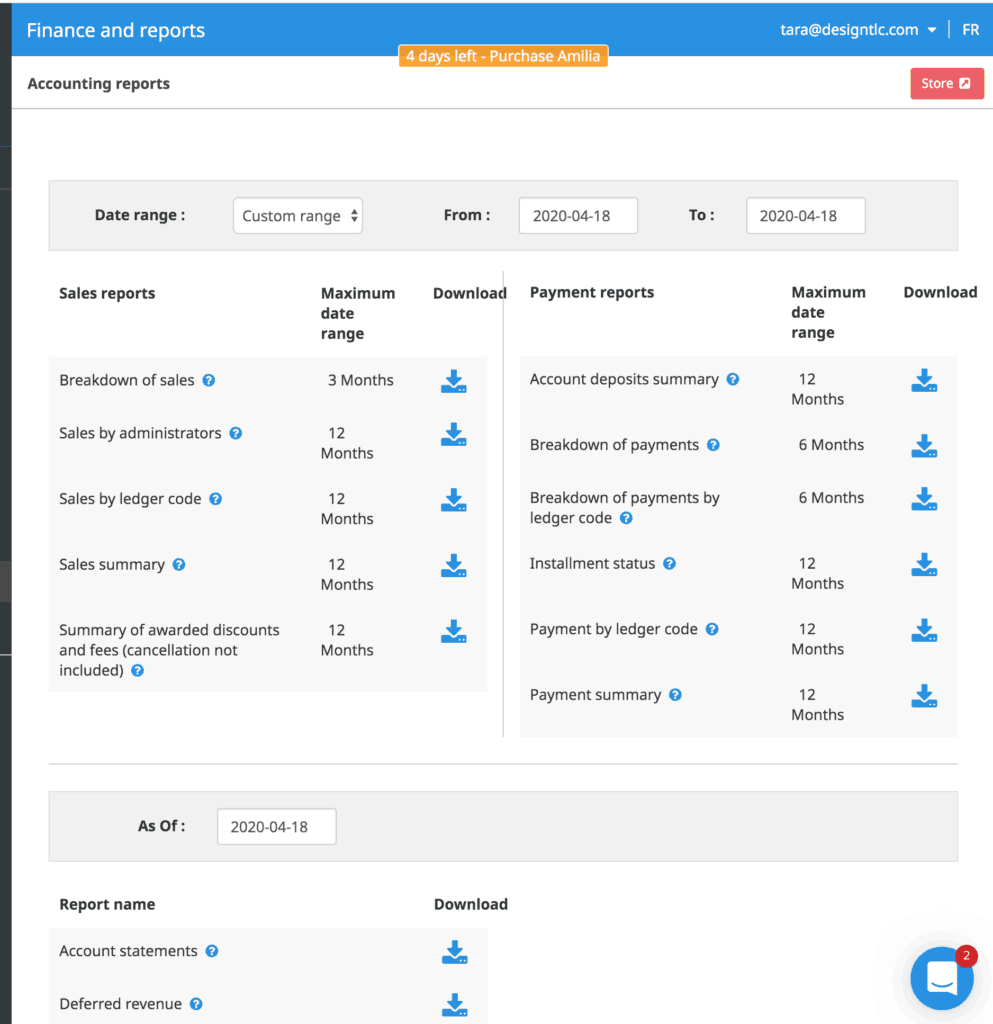 CRM/Email
There is a Communications section in Amilia, which is added via the "Apps." You can email students from the Clients Dashboard and Amilia integrates with Constant Contact, but not with any other email marketing services. Via Amilia's email system, you can send an email to no more than 150 clients simultaneously.
Adding Listings to Your Website
Like other class registration systems, Amilia has its own listing on its website. The listings on the Amilia website are not bad looking, and some customizing can be done, including adding your logo, choosing your color scheme and adding a background image to the header. However, most of the classes in the listing are in Canada, and are not filterable by location. Compared to Sawyer's Marketplace, this listing is really not user friendly as a resource for parents.
However, something we really love about Amilia is that you don't need to utilize their listing website at all. It is easy to get the embed code to put your content on your own website, and the entire registration process happens on your website. This allows us to customize the code more completely if we want to on our website. However, the look and feel "out of the box" is very fresh and clean, so we didn't need to do any customizing.
The list view does not have a filter, which is something we miss. As mentioned above, we also really miss having a search by location and age on the calendar view. As we also mentioned, the listing does not include a map link, which would be nice to have.
The individual class page includes easy social sharing buttons.
Payments & Cost for Using Amilia Registration Software
Amilia charges $99 per month plus 1% per transaction. In addition, standard credit card processing fees of 2.85% + .30 per transaction also apply. E-check payments carry a 1% + .50 per transaction charge. Their pricing page is really helpful in showing all you get for your fee.
Amilia uses Paysafe as its payment processor. You can specify how often payments come to you, and they come to you in full, with no fees taken out. To simplify accounting, Amilia charges for processing fees at the end of every month.
End-User Experience
Amilia says they are built for the end user and that they focus on UX. We agree that it is a nice and easy registration process for clients, and we also think the configuration for administrators is very good.
We would like to see better searches and filters, as well as a map/link for classes with locations. We really love the filter and search options in Sawyer and CourseStorm, which allow filtering by location, age, day of week, and time.
Amilia Class Registration Software Summary
We like the experience of using Amilia. It is missing a few features, as noted, which are really important to organizations running kids programs. If these features are expanded, we would recommend Amilia to enrichment programs and schools for class/camp registration and student management.
When we spoke to Amilia, they told us that their platform has seen some great SEO benefits. They have seen a 17%-19% in enrollment/revenue for some of the organizations when they start using Amilia.
Since it is based in Canada, some of the features are specific to Canada, and most of the organizations using this software, as shown in the Amilia central directory, are in Canada. They also seem to have a focus on gymnastics programs and single-location organizations. We have seen other class registration and management platforms focus on a niche, but would prefer a more diverse client base for their class listings on their website. Sawyer's class listing is much more interesting, with a range of kid's programs that can be filtered by location. However, there is an indication that Amilia may expand the listing section of their website to make it more user friendly.
Overall, Amilia has potential and is a good fit for small organizations, especially those with a single location and drop-in programs. The monthly fee is less than Sawyer, but if your revenue exceeds $10,000 per month, the two systems cost the same per month.
Want some help integrating your WordPress website with class registration software? We'd love to chat with you! Contact us.