Note: Tom Dolan Swim School was purchased by Big Blue Swim School in 2021, so the website we built for them is no longer live. However, it serves as an example of advanced functionality and customer satisfaction.
See what Tom Dolan had to say about working with us!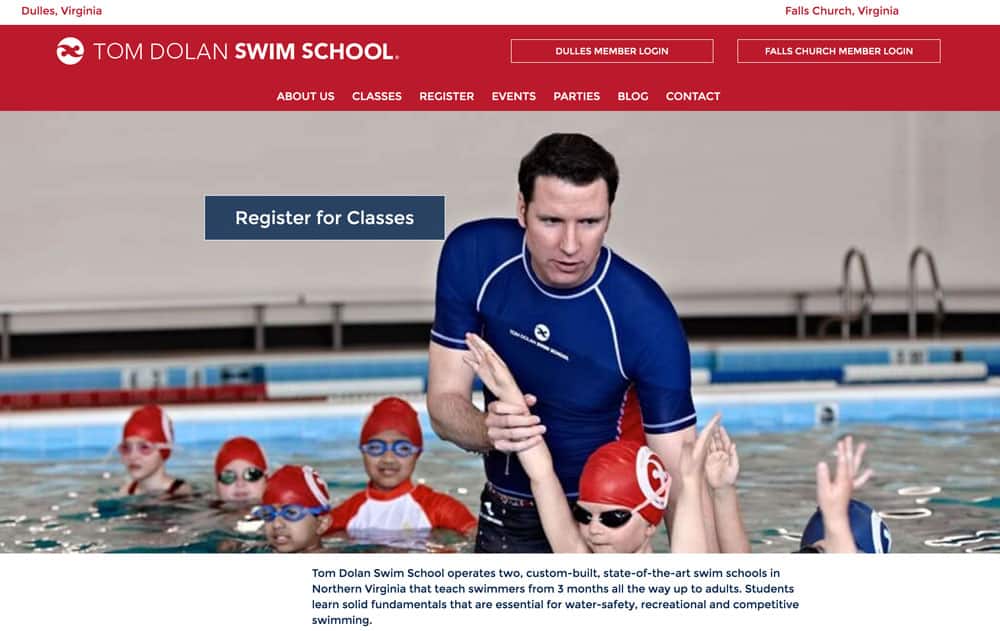 Tom Dolan is an Olympic gold medal swimmer. He runs a successful swim school, Tom Dolan Swim School (TDSS), with two locations in Northern Virginia. Design TLC has worked with Tom for over 5 years. We redeveloped his website and created custom functionality to connect to JackRabbit, the school's class management software. The registration pages on the website list detailed class information, while registration still happens on the JackRabbit website.
Over the years we have refreshed the design of the TDSS website and added new functionality, including an online question-based swim assessment to help new students determine their class level. The swim school offers classes throughout the day all year long, as well as special swimming clinics and camps during school holidays and in the summer. In 2019, we helped launch their new location on the website by creating sections for each location. Design TLC has also advised the TDSS team on building out their online presence with a focus on SEO, including their Google My Business profile and keyword optimization
In addition to the main school website, we developed an online employee training system for TDSS. We used Lifter LMS to create a complex training system for instructors and front desk staff to ensure consistency in performance and approach with students and parents.